- 7%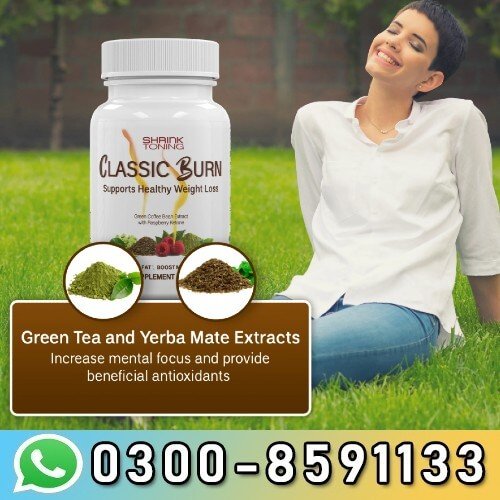 Weight Loss Products
Shrink Toning Classic Burn Capsule In Pakistan
in stock
Special Price Rs 6500
Regular Price: Rs 7000
Highlights
14 days easy return Change of mind is not applicable
100% Authentic from Trusted Brand
Cash on Delivery Available
Guaranteed Safe Checkout
Description
Buy Shrink Toning Classic Burn Capsule in Pakistan At Best Sale Price - Available In Lahore, Karachi, Islamabad, Bahawalpur, Peshawar ,Multan, Gujranwala, Rawalpindi, Hyderabad, Faisalabad, Quetta And All Other Major Cities Of Pakistan.

Product Description
Shrink Toning Classic Burn Capsule In Pakistan
Natural Veggie Diet Pills with Raspberry Ketones and Green Tea Chlorogenic Acid for Adults, Men, and Women
Classic Burn, a herbal supplement made by Shrink using natural ingredients, will help you in your attempts to burn fat and lose weight. You may harness the power of mother earth to help you reach your health objectives and feel better than ever with the help of four effective natural ingredients. Each of the ingredients in the supplements—raspberry ketones, yerba mate, green coffee bean, and green tea extracts—has properties that may be advantageous to you.
Each of the substances is known to have some capacity to speed up the metabolism when it comes to fat burning, which may be quite helpful when it comes to burning stored fat and making the most of your calories. Both raspberry ketones, which help the body's natural fat-burning processes by breaking down fat cells with the hormone adiponectin, and green coffee beans, which in this case have 45% chlorogenic acid, are known to support the body's natural fat-burning processes.
The benefits of green tea extract and yerba mate on the brain are also well documented. Green tea is frequently consumed to promote sleep and relaxation and to assist the brain unwind from the strains of daily living. On the other hand, yerba mate is well known for aiding in improving mental focus and for having some appetite-suppressing properties. These features of Classic Burn could help you deal with the difficulties of ordinary life, a new diet, an exercise programme, or both.
Don't waste any more time and give Classic Burn by Shrink a try right away! These green coffee tablets can be a terrific complement to your at-home health regimen.
HERBAL SUPPLEMENT:
A herbal product called Shrink Classic Burn is created from four highly effective natural ingredients. Green coffee bean extract, raspberry ketones, green tea, and yerba mate extract are all included in these natural dietary supplements, and they all work together to provide the tablets their potent and beneficial effects.
CAPSULES FOR WEIGHT LOSS:
You can help yourself lose weight and burn fat by using these green coffee bean supplements. Green coffee bean extract for weight loss is a fad that is catching on all over the world. It contains 45% chlorogenic acid, a compound that has been found to promote glucose absorption and boost the metabolism.
Shrink Toning Classic Burn Capsule In Pakistan
| | |
| --- | --- |
| Product Size | 90 Capsules |
| Product item Form | Capsule |
| Product Made in | USA |
1 reviews for
Shrink Toning Classic Burn Capsule In Pakistan
Frequently Asked Questions
Customers Who Bought This Item Also Bought