- 28%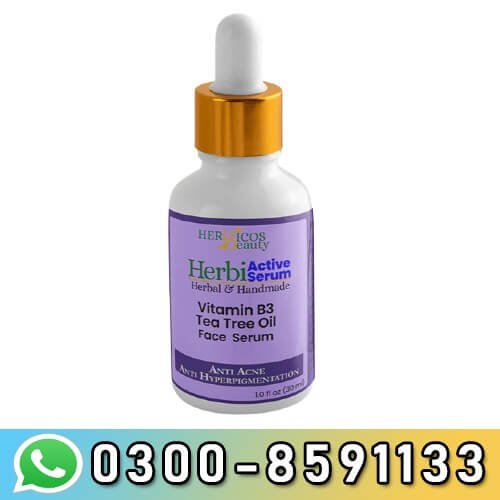 Herbicos Beauty Products
Vitamin B3 with Tea Tree oil Serum
in stock
Special Price Rs 1450
Regular Price: Rs 2000
Highlights
14 days easy return Change of mind is not applicable
100% Authentic from Trusted Brand
Cash on Delivery Available
Guaranteed Safe Checkout
Description
Buy Vitamin B3 with Tea Tree oil Serum in Pakistan At Best Sale Price - Available In Lahore, Karachi, Islamabad, Bahawalpur, Peshawar ,Multan, Gujranwala, Rawalpindi, Hyderabad, Faisalabad, Quetta And All Other Major Cities Of Pakistan.

Product Description
Vitamin B3 with Tea Tree oil Serum
Your everyday beauty routine can benefit from our Vitamin B3 with Tea Tree Oil Serum! This serum features a special combination of organic components that cooperate to lessen the visibility of blemishes, redness, and inflammation.
Niacinamide, or Vitamin B3, is one of the main components of our serum. This potent substance not only acts to protect your skin from environmental stressors and minimise the appearance of pores, it also helps to produce a brighter, more even skin tone.
But there's more! Tea Tree Oil, a strong antibacterial that aids in the fight against acne-causing germs and soothes sensitive skin, is another ingredient in our serum. These components work in concert to give you clear, healthy-looking skin when used with Vitamin B3.
With the help of our Vitamin B3 with Tea Tree Oil Serum, bid farewell to uneven, dull skin and hello to a more luminous complexion. Try it out right now to experience the difference for yourself!
Vitamin B3 with Tea Tree oil Face Serum Benefits
Anti-Acne
Anti Hyperpigmentation
Skin Brightening
Smooth skin
Clear skin
Anti-Aging
Skin Pore tightening
Anti Wrinkles
Antioxidants
Reduce Fine Lines
Hydrate And Moisturize
Anti Dark Spots
INGREDIENTS
Vitamin B3(Niacinamide)
Tea Tree Oil
Lavender Oil
Aloe Vera Gel
Glycerin
Vitamin E
Vitamin A
Aqua
Xanthan Gum
Herbal Extract
Vitamin B3 with Tea Tree oil Serum
| | |
| --- | --- |
| Product Size | 30ML |
| Product item Form | Serum |
| Product Made in | USA |
1 reviews for
Vitamin B3 with Tea Tree oil Serum
Frequently Asked Questions
Customers Who Bought This Item Also Bought