- 25%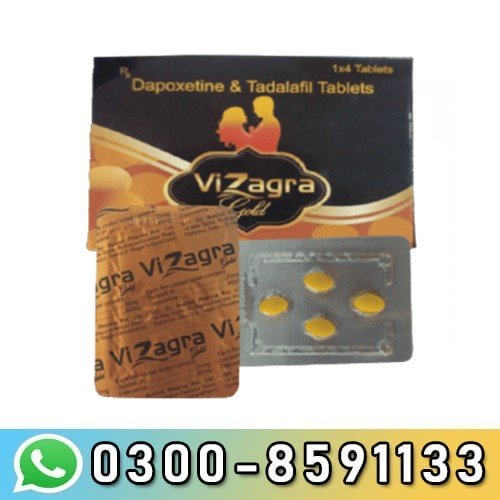 Sexual Weakness
ViZagra Gold Tablets in Pakistan
in stock
Special Price Rs 1500
Regular Price: Rs 2000
Highlights
14 days easy return Change of mind is not applicable
100% Authentic from Trusted Brand
Cash on Delivery Available
Guaranteed Safe Checkout
Description
Buy ViZagra Gold Tablets in Pakistan At Best Sale Price - Available In Lahore, Karachi, Islamabad, Bahawalpur, Peshawar ,Multan, Gujranwala, Rawalpindi, Hyderabad, Faisalabad, Quetta And All Other Major Cities Of Pakistan.
Product Description
ViZagra Gold Tablets In Pakistan
In Pakistan, ViZagra Gold Tablets are a combination of two medications (60 mg Dapoxetine and 20 mg Tadalafil) used to treat adult men with erectile dysfunction and premature ejaculation. It facilitates men obtaining an erection by increasing blood flow to the penis.
How ViZagra Gold Tablets in Pakistan (Dapoxetine & Tadalafil) works?
Dapoxetine 60 mg and Tadalafil 20 mg, two medications that cure premature ejaculation, are combined as ViZagra Gold Tablets, which are available in Pakistan. As a phosphodiesterase type 5 (PDE 5) inhibitor, tadalafil increases blood flow to the penis during sexual stimulation and promotes erection in the penis after such stimulation. Dapoxetine is a selective serotonin reuptake inhibitor (SSRI) that raises serotonin levels in nerves to improve ejaculatory control and lengthen ejaculatory duration.
Real Work function of ViZagra Gold Tablets
When you're sexually stimulated, blood may flow into your penis because ViZagra Gold Tablets in Pakistan aid to relax the blood vessels there. Taking it with or without meals is OK. However, before engaging in sexual activity, take it as prescribed by your doctor. Patients who have a history of epilepsy, depression, or other psychiatric illnesses should use it with care. Additionally, it's crucial to let your doctor know if you've ever had liver, renal, or cardiac illness.
Benefits of ViZagra Gold Tablets (Dapoxetine & Tadalafil)
Serotonin, a neurotransmitter, is produced in greater quantities in the brain when ViZagra Gold Tablets are taken in Pakistan. This prolongs the ejaculation process and enhances ejaculation control. This boosts your confidence and helps ease any irritation or concern you might be experiencing as a result of ejaculating quickly. It is often taken one to three hours prior to planned sexual activity. Only use this medication once per day.
How To Use?
Follow your doctor's instructions for this medication's dosage and duration. Take it all in at once. Don't eat it, break it, or crush it.It is preferable to take ViZagra Gold Tablets in Pakistan at a set time rather than with or without food.
ViZagra Gold Tablets in Pakistan
| | |
| --- | --- |
| Product Size | 1x4 |
| Product item Form | Tablets |
| Product Made in | USA |
1 reviews for
ViZagra Gold Tablets in Pakistan
Frequently Asked Questions
Customers Who Bought This Item Also Bought